As the current pandemic forces us to accept a new way of doing things, doing them better can never be secondary. Supporting this vision, FICS'21 is here to spark innovative minds to create solutions that can help our society live an easier, superior and most importantly healthier life. This time around, it is packed with even better opportunities and awards than you have never seen before.

FICS (Finding Innovative and Creative Solutions for Society) is a platform that provides creative minds like you an opportunity to not only showcase the ideas your brilliant minds come up with but also create a tangible product that you can be proud of. Is there a blockbusting FYP bringing change to the table or a side project you've always wanted to work on? Get it registered today!

Participating students interact with industry representatives making connections and gaining experience that serves them a lifetime. Not only that, the feedback you get instils into you the practical experience these experts have gained over the years polishing you for your career ahead.

There are three stages in this competition:

First, the online ideas submission stage where you will submit a proposal for an idea you want to pursue.
Second, the presentation stage where you will present your idea to industry partners and supervisors.
Third, the prototype development stage where you will mould your idea into a physical form and present a working solution.
And after that is the sweet ceremony where winners, as decided by the judges, get the prizes they deserve.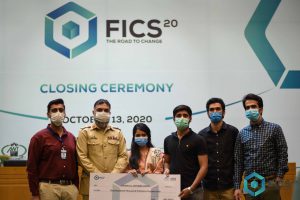 Industry interaction and practical experience are what every one of you gets and winners can add cash prizes on top of that because, at FICS, there's something for everyone!

We feel that the brilliant projects developed every year at FICS deserve more recognition and for that, FICS'21 brings you our media partner – TechJuice. This way our bright winners will get a chance to be featured on a channel with a broad and diverse audience. This will hopefully set them up for better partnerships and business opportunities.

The thing most appreciated about FICS is it does not end with that closing ceremony but goes beyond to actually shape the future of its participants and carve their career in its best form. In FICS'20, our partner Alfoze Technologies offered internships leading to jobs and high paying positions to our prestigious winners. Expect this and many other opportunities in FICS'21.
So what is it gonna be? Something that makes our lives easier, superior, or healthier? Get your ideas registered today. Let's FICS for the better!



By Tehreem Farooqi
Director Publications FICS'21